SMC also called Speed Mini Cycle,which is a company committed to develop small size carbon rims, wheels and bikes.
Now, We are the first company offer full small size carbon rims in 24"(520); 24"(507); 20"(451) ; 20"(406);18" (355); 17" (369); 16"(349) ; 16"(305);14" (254); 12"(203) ;
As we all know carbon fiber was widely used in MTB and road bikes, DIY a full carbon fiber bike is very popular.
With the development of the bicycle, carbon fiber also popular in Recumbent bike, Folding bike, ECO car, Balance bike etc.
Currently we have carbon rims and wheels can compatible Birdy bike, Moulton bicycle, Brompton bicycle, BMX, BMX Race, Tern bicycle, FSIR bicycle, Tyrell bike, Airnimal, Bike friday, Dahon bike etc.
We believe that each customer are particularly concerned about the quality of products, we also pay most attention on it.
After test and test (based on EN standard), we trust that our carbon rims and wheels are strong enough and safe.
If you familiar with carbon rims, you will find that most companies offer 1 year warranty.
We are the first company offer Lifetime Warranty.
Our newest carbon rims list: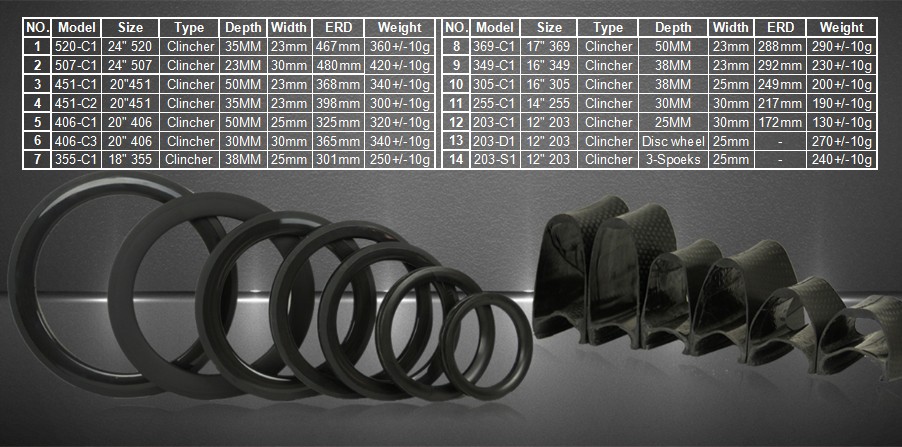 Business idea:
Committed to develop high quality and safe products, expect for every customer bringing peace of mind, safe, simple, love, dreams and moved.