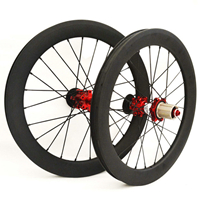 This is a lightweigt design carbon wheelset for 18" Birdy bike Disc brake.
The wheelset use Blade spokes to let bike have better aero.
The hub options: Redia hub or Sunrise straight pull hub.
The rim structure was designed to be U-Shape, which make it stronger, looks more beautiful and have a good aero.
Rim Surface use thermal conductivity nano materials Graphenel, its thermal conductivity is>500W/m*k, brake heat can disperse effectively.
1. Minimum order quantity(MOQ): 1 set
2. Wheelset including quick release (skewers).
3. Worldwide shipping, Lead time: 5-10 days.
4. Lifetime warranty, any quality defects replace for free.
Please feel free to contact us for more details.

| | | | |
| --- | --- | --- | --- |
| Wheel Size: | 18" 355 | Use: | 18" Birdy Disc brake |
| Wheel model: | 355-BD1 | Brake: | Disc brake |
| Wheel weight: | 990+/-20g | Hub weight: | 350g |
| Hub O.L.D.: | 100mm/135mm | Hub color: | Black |
| Nipple color: | Black/Red/Sliver | Spokes: | Sapim or Pillar Bladed (Black) |
| Rim Type: | Clincher | Rim weight: | 230+/-10g |
| Rim Width: | 25mm | Rim Depth: | 38MM |
| Rim ERD: | 301mm | Rim Material: | full carbon Toray T700 |
| Rim Weave: | UD/3K/12K/18K | Rim Finish: | Matte/Glossy |
| Rim Holes: | 24H/24H or 28H/28H | Rim Drilling: | average holes or G2/G3 |
| Tire width: | 23 to 37 compatible | Tire pressure: | Max 120 psi |
| Rim warranty: | Lifetime warranty | Standard: | En standard |
| Lead time | 5-10 days | Valve: | Presta or Schrader |